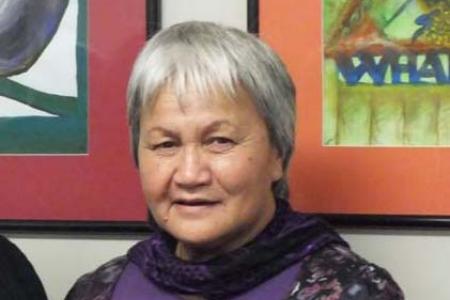 Ngati Porou
Kathleen (fondly known as Kath) Mohi, the youngest of 12 children of Ropata Clark and Akenehi Pohiwi was born and raised at Tikitere (also known as Hells Gate), a farming community between Lake Rotoiti and Rotorua. Kath's whanau had shifted to Rotorua from the Ngati Porou region under Apirana Ngatas Ahuwhenua Māori Development Scheme. Kath's father an ex World War I veteran worked the land to provide a sustainable lifestyle for the whanau.
Kath's early memories are growing up on the farm, running over the hills and creeks and her mums stories about how dad broke the land in and how the kids used to be hung in the chaff bags on nails in the shed so that mum could help their father milk the cows. Health practices at Kath's home while growing up commonly involved use of rongoa Māori, herbal medicines, and karakia. Te Reo Māori was the first language used in the home when Kath was growing up especially from her mum who spoke very minimal English.
Kath schooled at Rotokawa primary in Rotorua and completed her secondary schooling at Hukarere Māori Girls and Rotorua Girls High Schools. Kath worked in a range of jobs such as at the Queen Elizabeth Hospital in Rotorua whilst caring for her whanau before she considered psychiatric nursing. It was her whānaunga Rangi Waikari a psychiatric nurse who worked at Porirua Psychiatric Hospital who inspired Kath to enter psychiatric nursing. Kath was one of small group of older students in her 1977 class of 118 at Tokanui Hospital, she registered as a psychiatric nurse in 1980.
Upon completing her psychiatric nursing training at Tokanui Kath returned to Rotorua to practice as a registered nurse. Her early nursing experience included nursing in the new acute mental health unit which opened at Rotorua Hospital in the early 1980s, and as a community mental health nurse. In 1992 Kath was part of the new crisis assessment team (CAT) established under the new Mental Health Compulsory Assessment and Treatment Act(1992).
A highlight of Kath's nursing career during this period was seeing the establishment of Māori mental health services in Rotorua in the early 1990s, and knowing now people are more comfortable with Te reo Māori, karakia, and Māori approaches being used in mental health services.
Kath observed a transformational period of change in mental health services in Rotorua, which involved a shift from institutional based care in large regional hospitals such as Tokanui to community focussed treatment where people affected by mental illness were more able to receive treatment in their own communities.
Kath worked for a brief period at Te Puea Hospital at Tikitiki on the East Coast before returning to Rotorua to work as a community mental health nurse at Te Ngako community mental health service. In the 2000s Kath took a position at Rotorua Hospital working in elderly mental health, which she held until her retirement in 2014.