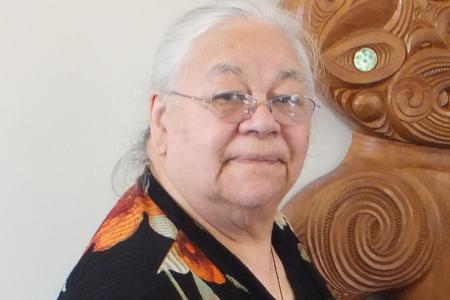 Ngāti-Kahungunu
Meretene was born in Te Reinga, Wairoa, one of twelve children, Mere was raised by her grandparents until she was 12 years old. Mere went to Te Reinga Native School and completed her schooling at Hukarere Māori Girls College in Napier.
Meres nursing career began in 1956 at Wairoa Hospital where she worked until she was old enough to commence general nursing training. Mere moved to Porirua and commenced her mental health nursing in 1960 where she trained and worked as a staff nurse, ending in a range of management positions at Porirua Hospital.
Mere worked for the health department in funding initiatives, also for the Ministry of Women's Affairs and the former Central Regional Health Authority (RHA). In 1996 Mere moved to Hawkes Bay to manage Māori mental health services for four years, and then returned to the Wellington region.
Mere served on ministerial appointed committees, is a former member of the Māori expert committee of the Mental Health Commission, the Mental Health Foundation, the Māori Council, the Māori Women's Welfare League and was awarded Sir Jack Butland award, Māori woman of the year in 1996 several mental health service development advisory groups. Mere was a Council member of the New Zealand Nursing Council for five years and continues to be kaumatua for the council.
Mere won a Winston Churchill award to go to Canada for three months to work with Dorothy Burwald in Toronto Clark Institute of Psychiatry and spent time in Thistletown regional centre for adolescents. In 2007 Mere received the New Zealand Order of Merit for Services to Māori Health.
Mere received the Whetū Kanapa Award by Te Ao Maramatanga for her contribution to Māori Mental Health Nursing in 2012. Mere is currently the Kuia for Regional Rangatahi Acute inpatient services in Wellington covering six District Health Boards in the lower North Island.