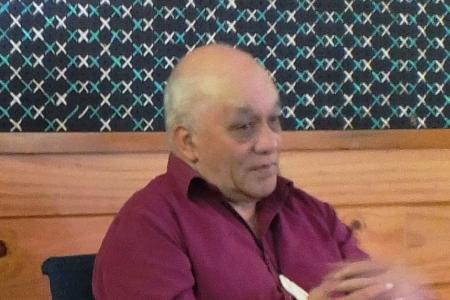 Ngāti Porou, Te Aitanga a Hauiti, Ngāti Tamanuhiri, Te Whānau o Rongomaiwahine
Ronald was born in Hastings, the older of twin boys to parents John Sonny Baker (also fondly known as Jackie Baker) and Rotu Tawhio Rangi Baker (also fondly known as Rangi). Jackie Baker was in the 28th Māori Battalion in WWII, his last posting was in Auckland where Ronald and four of his siblings grew up around the stories of this fathers comrades.
Ronald went to Ruapotaka School in Glen Innes and completed his college years at Tāmaki College, Auckland. He left school at 17 years of age, with a school certificate and got his first job at the Central Post office in Auckland, initially intended for the telegraph department, Ronald worked for the Post Office Savings Bank.
Ronald had dreams of joining the Army like his father, however a childhood injury prevented him from passing the medical examination. Ronald spent three and half years with the Auckland Metropolitan Fire Brigade, after which Ronald did share milking at Hikutaia (between Paeroa and Thames) and managed a dairy farm in Papakura.
At the end of 1978, Ronald applied to Carrington Hospital to train as a psychiatric nurse following an advertisement he saw in the local paper seeking psychiatric nurses. Following the completion of his training Ronald worked at Carrington Hospital as a staff nurse.
In 1984 Ronald went to Tokanui Psychiatric Hospital to work as a staff nurse at Whaiora – the first Māori Mental Health Unit in New Zealand; whilst there he contributed to Te Roopu Awhina o Tokanui. Ronald completed his Advanced Diploma in Nursing at Waikato Polytechnic in 1986, and returned to Whai Ora as the Charge Nurse, where he remained until 1989.
Ronald returned to Auckland as part of a new forensic unit, and at the request of Kaumatua Henare Sutherland, Ronald took the position of Manager at Te Whare Paia, the second Māori Mental Health Unit at Carrington Hospital. Ronald established Manawanui the third Māori Mental Health Unit in Auckland, which continues to provide a unique Marae based Māori mental health service in the community under Auckland District Health Board.
Ronald has achieved a number of milestones such as the Winston Churchill Fellowship; ANZAC Fellowship to research and investigate traditional healing and health practices with first nation's peoples of Canada, USA, Southern and Central Australia. Ronald is a founding member of Te Ao Māramatanga and also a Fellow. Ronald received Whetū Kanapa Award by Te Ao Māramatanga in 2012 for his contribution to Māori Mental Health Nursing.
Ronald contributed to the cultural training of Crown Health Enterprises, Regional Health Authorities and District Health Board staff over the years. He also delivered programmes for the development of Iwi and Community Support Workers in the 1990's and the Hauora Diploma at Te Whare Wananga o Awanuiārangi.
Ronald's continual passion for working with people took him home to work as a clinician in Mahia and Ngāti Porou Hauora, he went on to work in Northland for North Care Trust and Northland District Health Board Mental Health Services.
Ronald is currently the Kaumatua for Auckland and Waitemata District Health Boards, based at Manawanui Māori Mental Health Services, Auckland.