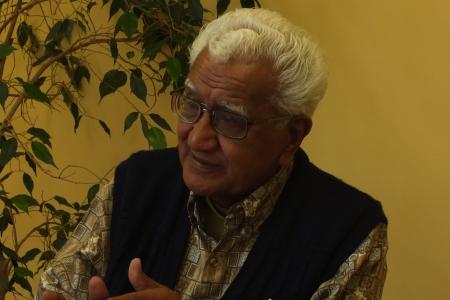 Ngāti Maniapoto, Ngāti Paretekawa
Raised on their family farm near Waikeria, and schooled at Te Awamutu, Winston first started nursing at Tokanui Hospital in 1959. The psychiatric hospital was only a short distance from the Maniapoto family homestead and Winston was then fresh out of school, not knowing that this was to be the beginning of a career in mental Health that would span more than 50 years.
As a young man psychiatric nursing training gave Winston opportunities to travel and gain experience at a number of different psychiatric hospitals around New Zealand. This included a period at Oakley Hospital in Auckland, Tokanui Hospital, and at Lake Alice Hospital in the Manawatu before registering as a psychiatric nurse from Porirua Hospital in Wellington in 1965 at the age of 21.
As a registered nurse Winston returned to work at the secure unit at Lake Alice where in 1971 he was named by the National Nurse and Midwives' Board as the best Psychiatric Nurse in New Zealand. This award proved to be fateful for Winston leading him to challenge his whole way of thinking up to that time in consideration of cultural preferences and care of Māori people and other cultures in psychiatric institutions at that time that was to leave a lasting impression on his whole career.
In 1977 Winston took his family to Kaingaroa Forest where he took up a position of Recreation Officer working with at risk youth. In 1980 Winston was then appointed as Senior Probation Officer for The Department of Justice, Psychological Services in Auckland.
In 1986 he was appointed to the position of Cultural Co-ordinator, at the Mason Clinic in Auckland and then in 1994 he took on the role as Manager Māori Mental Health Services at Auckland A+. In 1994 and in 1997 Winston was awarded the Gold Medal Achievers Award at the ANZ THEMS conference for developing cultural mental health assessment for Māori, and in the development of Māori community mental health services. In 2004 he was awarded Queens Service Medal (QSM) for Public Services to Māori.
In 2008 Winston returned to the Waikato and took up a position of Early Psychosis Worker with Raukura Hauora o Tainui until his retirement in May 2013. In 2015 Winston became a recipient of Whetū Kanapa awarded by Te Ao Māramatanga New Zealand College of Mental Health Nurses for his contribution towards excellence in the development of Māori Mental Health Nursing.