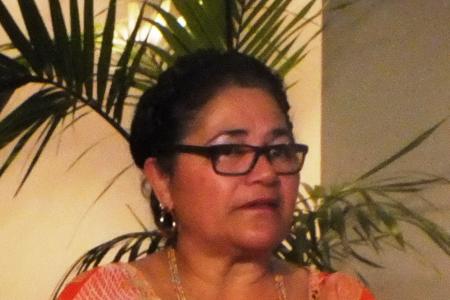 Ngāti Porou
Nicola was born at Waipiro Bay, and raised in Ruatoria until she was ten when her whanau moved to West Auckland. Nicola went to Manutahi Primary and Te Atatu North Intermediate, completing her secondary schooling at Rutherford High School.
Nicola commenced her psychiatric nursing training at Carrington Hospital as a 17 year old, and after a short break following her graduation Nicola worked in Whakatane for a year. She returned to Auckland to work at Cornwall House, one of the first community based mental health services where she specialised in whanau therapy, working with young people. Nicola went to Australia, and on her return to New Zealand, was inspired to concentrate on her art following her nursing experience with young people at Carrington Hospital. Nicola developed a profile in contemporary Māori art and has exhibited many pieces since 1990.
During the 1980's Nicola was part of the movement to bring about cultural responsiveness in mental health services. She was responsible for developing the first mobile nursing outreach service from Te Puia Hospital, Gisborne to care for people with lived experience of mental illness in the community. Nicola then worked at Te Whare Marie, Māori Mental Health Unit, in Wellington leading the Acute Liason Services with the Acute Admission Wards at Porirua Hospital.
On her return to Auckland, Nicola worked for the Learning and Development Service based at Greenlane Hospital, where the development of a community support worker training programme occurred in the Auckland and Northland regions. Nicola completed a nursing review for Manawanui Māori mental health unit where she subsequently worked as the Nurse Manager until 1999. Whilst at Manawanui Nicola led a number of innovative portfolios that contributed to a dual competent Māori mental health workforce and service delivery.
Nicola moved to the Hawkes Bay, and provided a mental health cultural training programme for Hawkes Bay Mental Health Services alongside Mere Hammond. When the Hawkes Bay District Health Board established in 2001 she became the first planning and funding portfolio manager for mental health, Māori health and disability support services. In 2003, whanau circumstances meant a move to Hutt Valley District Health Board, where she worked as the portfolio manager for Māori Health. Nicola then worked for Nelson Marlborough District Health Board as Māori Health Director.
In 2008 Nicola was head hunted to be the Director of Te Rau Matatini (National Māori Health Workforce Organisation) where she worked until her return to the Hawkes Bay in 2013. Nicola took the position for Head of Health services at Health Hawke's Bay Primary Health Organisation, and is currently the Head of Innovation and Development at Health Hawkes Bay.